About this site and the game it was inspired by:


What is Everquest?
You might well be asking yourself that question after visiting this site.

Everquest, commonly called EQ, is a fantasy game created by Verant and played online by tens of thousands of people all over the world. It's a vast and varied world with cities, mountains, deserts, oceans, forests and even underwater dungeons to explore. Using weapons or magic you can battle monsters ranging from common decaying skeletons to powerful dragons. It is an easy place to lose yourself in, as we have done.

If you want more information about Everquest, you can head over to the official site at: The Station

This site was created with no other purpose in my mind than fun and entertainment, and it is not officially connected to Verant or Sony in any way, shape or form.




To contact us:
If you want to contact the people behind this site with questions or comments, you can do so through the following e-mail address: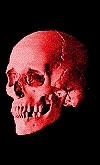 Laughing Bones Syndrome (LBS) is a serious disease.

Every day, the stigma of LBS drives many undead into social isolation,
depression and psychosis. Some even commit suicide by attacking superior foes.
Please be considerate when encountering an LBS sufferer.

A message from CNN, Concerned Necros of Norrath.